LightRay! 100 Women in Leadership: A Media Agenda and Quest for Women of Excellence
The LightRay! 100 Women in Media Leadership is a groundbreaking event designed to celebrate, empower, and position women in media, from aspiring professionals to seasoned entrepreneurs, on a path to success
---
By Roland Bayode
In the ever-evolving landscape of the media industry, women have emerged as unwavering pillars, skillfully crafting narratives that not only reflect the world around us but also drive transformative change. Despite their indispensable roles, the brilliance of their contributions often resides in the shadows, awaiting the recognition it so profoundly deserves. According to Lady Ejiro Umukoro, the Executive Director and CEO of Lightray Media, "These women have been the unsung heroes, and it's high time they stepped into the limelight."
At its core, this summit embodies the essence of empowerment. It stands as a resounding call to action, beckoning women from every corner of the media spectrum to gather, connect, and embark on a journey that transcends boundaries. According to Umukoro, "Our objectives are bold and multifaceted. We aim to transform female reporters into visionary leaders, cultivate gender inclusivity in reporting, elevate women as powerful news sources, advocate for equitable representation, and establish comprehensive gender policies within media organizations." The number "100" is not just a statistic; it symbolizes a threshold for acknowledging the remarkable women who have illuminated the path within Nigerian media. Umukoro asserts that LightRay!'s Media's commitment goes beyond words, it includes mentorship, intensive training, extensive networking opportunities, and unwavering support to facilitate the rise of these women to leadership positions.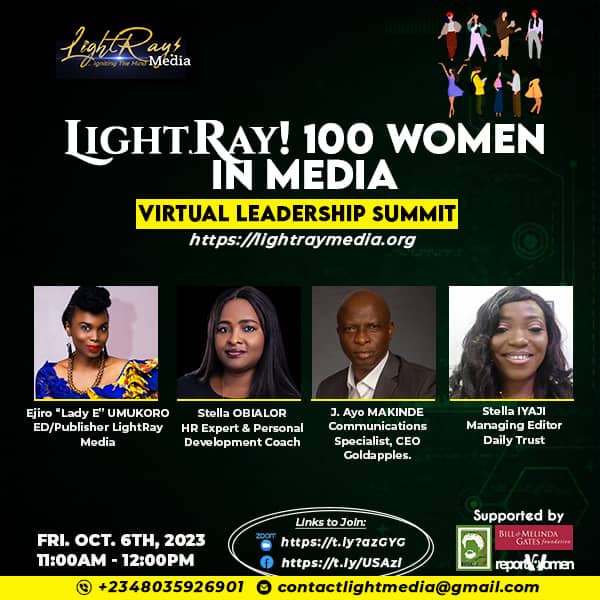 With Lady Ejiro Umukoro leading the charge, this visionary initiative is fueled by a personal journey that underscores the pivotal role of mentorship and support. It represents an effort to create a nurturing community that addresses the unique challenges faced by women in the media industry. According to Umukoro, "I've seen firsthand the incredible talent and dedication of these women, but their stories often go unnoticed. "For years, women have played pivotal roles in shaping Nigeria's media landscape, a fact acknowledged even within the hallowed pages of the Nigerian Constitution. Yet, the unique challenges they face can obscure their remarkable journeys. The "100 Women in Leadership Virtual Summit" is LightRay! Media's resounding response.
The objectives of this summit are as ambitious as they are essential. According to Umukoro, "It is about transforming female reporters into leaders, ensuring gender inclusivity in reporting, amplifying female voices as news sources, advocating for equitable representation, and instituting gender policies within media organizations." The choice of the number "100 Women" is not arbitrary—it's deeply symbolic. Umukoro explains that it signifies the minimum threshold for recognizing the remarkable women in Nigerian media. Lightray Media is committed, not merely in words but in action. This organization will mentor this inaugural cohort, offering comprehensive training, expansive networking opportunities, and unwavering guidance, paving the way for their ascent to leadership.
Lady Ejiro Umukoro, the Executive Director and CEO of Lightray Media, is the visionary behind this transformative initiative. Her personal journey has underscored the significance of mentorship and support. According to Umukoro, "I've seen women with immense potential struggle due to a lack of opportunities and support." She has borne witness to the oversight of exceptional women in the media. Her solution is to create a nurturing community that addresses the specific needs of women in the industry. The challenges confronting women in media are multifaceted, ranging from self-imposed limitations to cultural barriers, workplace politics, and a lack of awareness about available opportunities. However, Umukoro believes these formidable barriers are not insurmountable. Through increased awareness, mentorship, and the formulation of inclusive workplace policies, these hurdles can be overcome.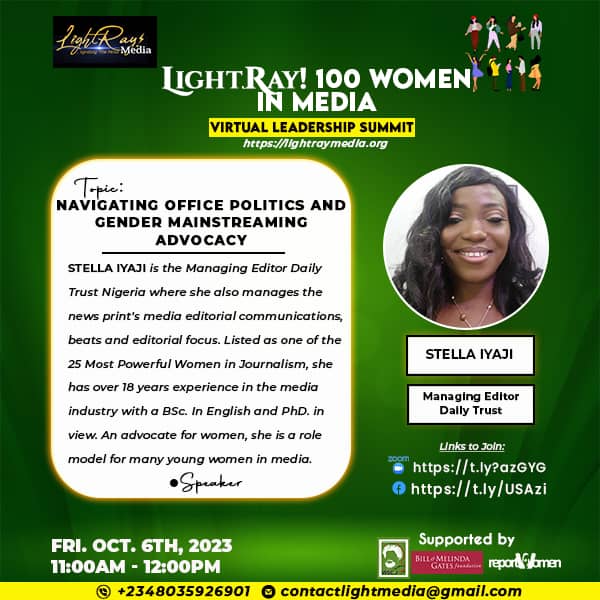 LightRay! Media's "100 Women in Leadership Virtual Summit" aspires to create an inclusive and thriving media environment. According to Umukoro, "We want to celebrate women's contributions and advocate for gender equality in terms of fair play, leverage that propels innovation and amplifies diverse voices within the media landscape." Its overarching goal is to influence narratives and engender a profound impact on society. Umukoro emphasizes that it represents an endeavor to break down long standing barriers that have held back the potential of women in media, despite their exceptional contributions to the industry.
This summit is not just an event; it's a movement. According to Umukoro, "It's a collective effort to reshape the narrative, amplify women's voices, and pave the way for future generations of female media leaders." The impact of this initiative extends beyond the confines of the media industry; it is a catalyst for change within society itself. Umukoro asserts that it challenges stereotypes, breaks down gender biases, and sets a new standard for inclusivity and equality.
Mark your calendars for Friday, October 6th, 2023, at 11 AM, and virtually partake in the "100 Women in Leadership Virtual Summit." It is a unique opportunity for women in media to engage in a transformative experience, uplifting and empowering those who propel the industry forward. The summit is supported by organizations committed to gender equality and journalistic excellence, including Report Women, the Wole Soyinka Centre for Investigative Journalism, and the Bill and Melinda Gates Foundation. Join the movement, be part of the change, and celebrate the incredible women who are shaping the future of media in Nigeria.