Top Earning Career Skills within Nigeria and Overseas
If you want to make a career move overseas, data shows that 90% of jobs in the EU require some…
---
If you want to make a career move overseas, data shows that 90% of jobs in the EU require some level of digital skills. A digital skill requires you have the ability to find, evaluate, use, share and create content using digital devices such as computer, smart phones. This means you have to have strong digital online presence and foot print.
In the Nigeria business space, employers are looking for highly savvy digital skilled employees, consultants and virtual assistants.
With that established, here are some suggested approaches and skills highly sort after:
There's an accelerated need for digital skills: many businesses and organizations are shifting to remote work and digital platforms for communication and collaboration. Your expertise in the use of excel, spreadsheets, PowerPoint, and ability to clean and extract data, etc, are very important tools and ability in the digital world.
By 2025, half of all employees will require reskilling and upskilling in digital skills – world economic forum. Publishers are looking for highly skilled graphics expert, can use Google docs, and AI tools to generate quick solutions to design, proposals, etc.
Digital skills are not just for tech jobs; they are increasingly important in a wide range of industries, including healthcare, finance, marketing, and education.
The most in-demand digital skills include copywriting, web development, video editing, programming languages such as Python and Java, data analysis, cybersecurity, machine learning, Digital Marketing, Project & product management, cloud computing, and others.
The use of artificial intelligence (AI) is growing rapidly, and digital skills related to AI, such as machine learning and natural language processing, are becoming increasingly important.
The top 6 most in-demand soft skills for 2023 are Management, Communication, Customer service, Leadership, Project management and research, all of which are essential for success in the digital world – LinkedIn Report.
Digital skills are not just important for individuals; they also have significant economic benefits for countries. A study by Accenture found that improving digital skills could boost the GDP of the G20 countries by $1.5 trillion by 2025
If you want the work-life balance as a man for your wife, and as a woman who still wants some economic independence, Digital skills can help bridge the gap in the workforce, as they enable more women to access remote work and flexible job opportunities.
Digital skills can also have a positive impact on social mobility, as they can provide individuals with the tools they need to access better job opportunities and improve their economic situation.
Do you know how to Ideate and Iterate ideas? Research and digital book publishing are the next frontiers.
Do you have an audience on social media? Your ability to tap into your social capital and turn it into a paid-for-brand is a digital asset when you produce content that your audience seeks, which it turns gives you direct sales, service bookings, adverts, collaboration and other direct and indirect engagement as a result of your digital foot print.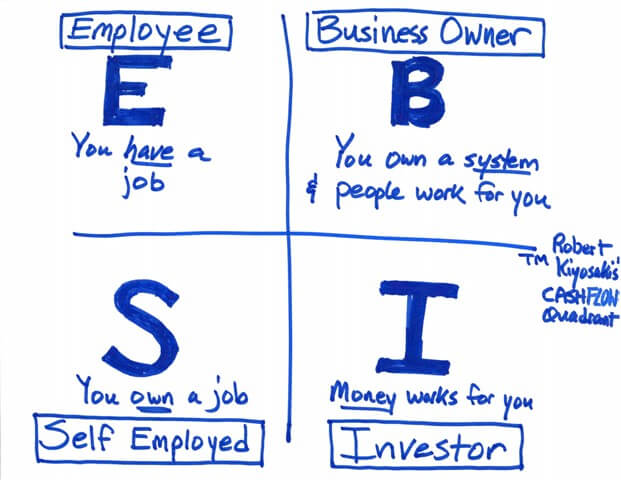 Think what your passion is? What keeps you awake every morning? Why does it matter? Answering these questions will help you tailor your choice of career, courses to take, and how to build your network to increase your net worth.
Where would you like to be in the next 1 year or 10 years from now? Employed? Self-employed? Business owner? Or an investor? Perhaps you think you can have the best of all worlds in one go? What would that take? At what cost would it come? What would be the best strategy, partnerships, collaborations, or options to achieve what is SMART (simple, measurable, accessible, returns on investment and timely?). Robert Kiyosaki's EBSI Income Quadrant is your best guide to evaluating what you want to become. You can get a copy of his Rich Dad, Poor Dad all-time best seller, on how to follow your cash flow.
8 Important Digital Skills Needed from Students and Workers
Social Media Savvy.
Search engine marketing (SEM) optimisation know-how.
Data analytics: data cleaning, research, data analysis, data visualisation, etc.
Content marketing: using social media for penetration and advocacy.
Email marketing: Google docs for registration of events, event registration via website, etc.
Social selling.
Video production, editing, content creation, coverage, and use of video accessories.
Research and Online Resources: writing skills, research skills, statistical skills, used of excel, etc.
Now is also a good time to determine which social media platform best suits your digital skills or which combination of platforms your audience can be found online to deliver your content, match with your style of communication or opens more doors for engagement and career promotions for you.
Remember: all experiences count. They contain value lessons and tips that can prepare you for your next leverage, pivot, or scaling you seek.