Iyovwaye group form presentation
"If Deacon Chris Iyovwaye becomes the governor, there will be spiritual rain, economic rain, financial rain…" says Pst Preye Foh…
---
"If Deacon Chris Iyovwaye becomes the governor, there will be spiritual rain, economic rain, financial rain…" says Pst Preye Foh as groups presents Guber form to Dcn Chris Iyovwaye.
By Patrick Ochei
A governorship aspirant and industrialist, Deacon Chris Iyovwaye, has been presented an expression of interest and nomination form to run under the platform of the Peoples Democratic Party (PDP), in Delta state.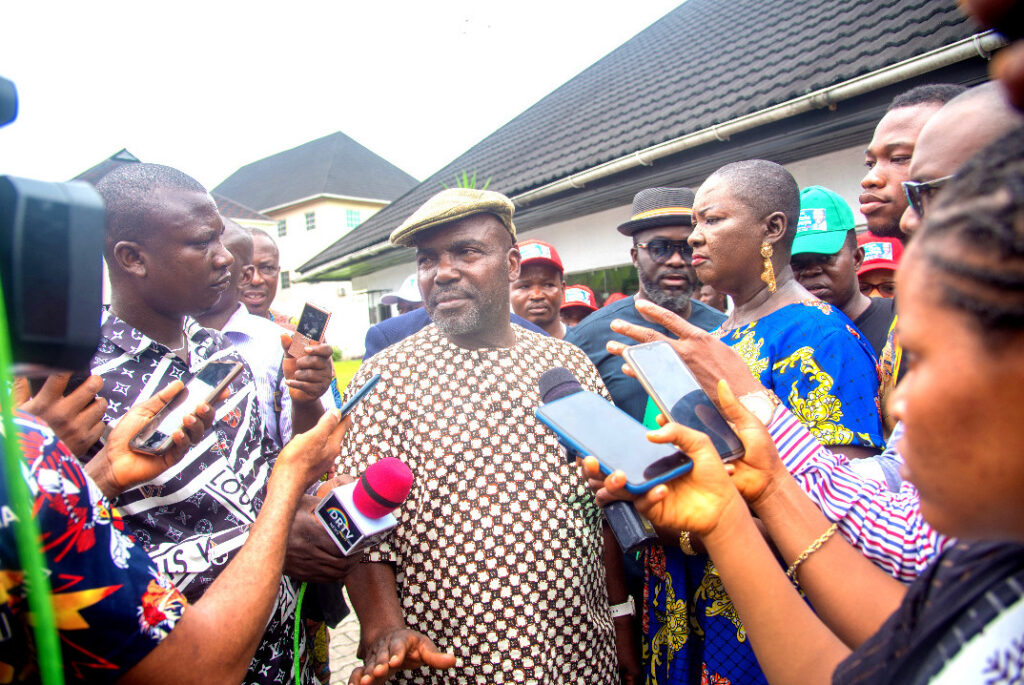 With the presentation of the governorahip form to Dcn Chris Iyovwaye, he becomes Delta's first Gubernatorial Aspirant who is both a Cleric and Industrialist to join the race with a rare combination of a track record of competence, capacity and character. The form was purchased by three groups, the Isoko/Urhobo Unity Forum, Youths Arise Nigeria and Deltans in Global Diaspora.
Presenting the soon-to-be Aspirant with the form, amidst jubilation, Monday, in Warri, a leader of the groups, Chief Hope Erute, described the aspirant as one who could win across Delta State, given his track records. "It is the implicit confidence that the groups have laid on Chris oyowaye that has moved them to purchase the form for governorship. The support is not ordinary. The support is fundamental.
"We start from presenting him the forms for gubernatorial race today, on behalf of Isoko, Urhobo Unity Forum and the Committee of Friends all over Delta state. We have young men, Youths Arise, who are with us very solidly. They are prepared to transverse the lengths and breaths of Delta state.
"We are picking a candidate that is sellable, a candidate that will win the lengths and breaths of Delta state. We do not mince words when we say so. He is a grassroots man, a man who fears God," Chief Erute stated.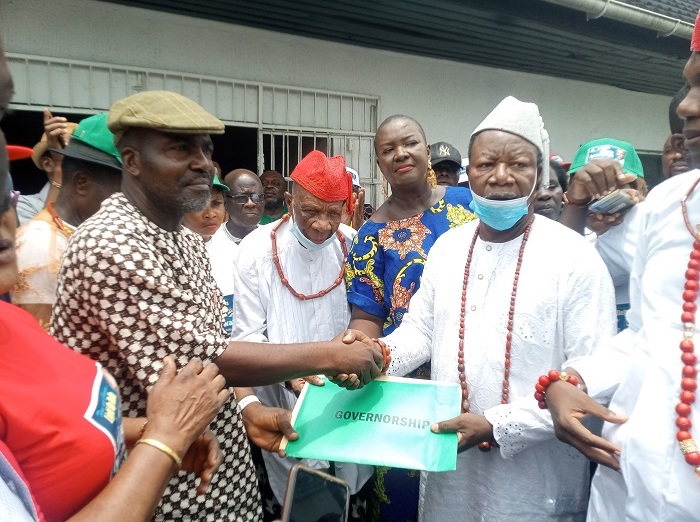 Responding, Iyovwaye who is the Managing Director of Wellmann Group of Companies and a native of Aghalokpe, Okpe council area of the state, expressed gratitude to the groups for deeming him worthy of the gesture.
The renowned technocrat disclosed that if elected, tackling insecurity, energy and youths unemployment will be some of his top focus, adding that his administration will introduce the Smart PLUS agenda to build on the legacies of the incumbent Governor, Senator Ifeanyi Okowa.
"I am grateful. I want to assure you that by the time we get there and with the things we set up, things will happen for Delta. Delta needs a governor that understands the environment and the people.
"The first problem we have as a state is insecurity. Once security, which is the major problem is sorted out, Delta will grow rapidly. Of course course, you can't have infrastructural development where there is insecurity.
"We will also make sure to set up energy because it's energy that drives the environment. Our amiable governor Dr. Ifeanyi Okowa has done a lot in that area, but there's still a lot more to do.
"Industrialization is possible in Delta. I have 500 unseen opportunities in Delta. There are minerals that are waiting to be tapped. The programme that we have will take millions of youths out of joblessness.
"If things are not okay with the youths, things can never be okay with any nation. They are the drivers of our economy. But it's so sad that most of them are not contributing anything. It is one of the major problems we are having as a state. By the Grace of God, my government is going to quickly address that. To kick start any economy, you need youths," the governorship hopeful stated.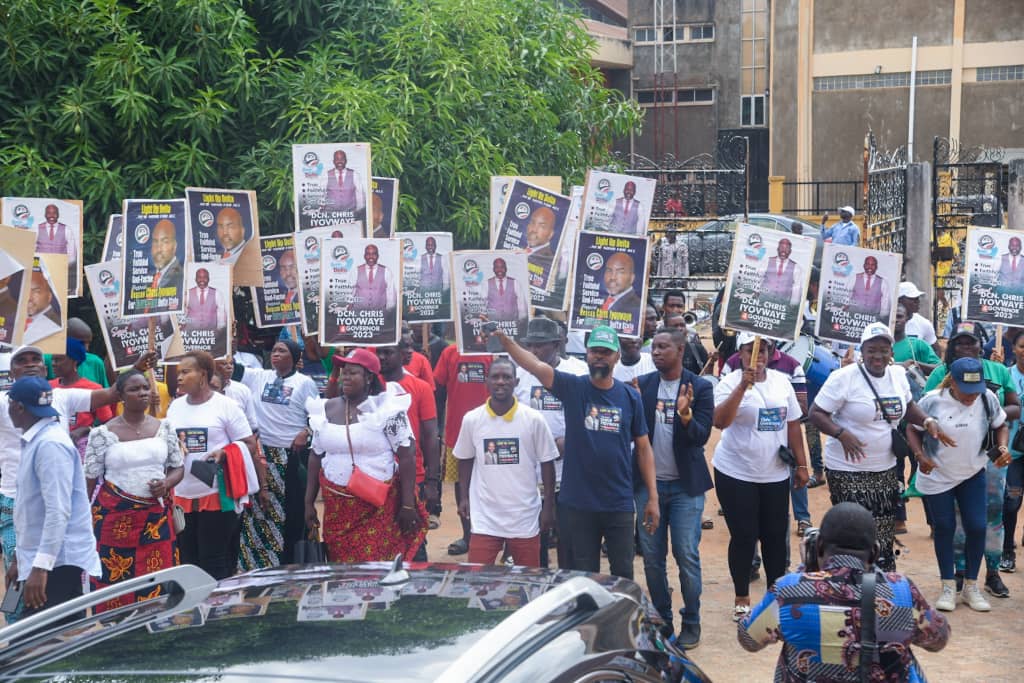 Several supporters including the oldest Okpe Chief and a member of the PDP, Chief Daniel Okoro, were present at the ceremony. Some supporters who spoke on the sidelines, said that his candidacy and leadership will turn around the fortunes of Delta state, for good.
In his remarks, a member of the Committee of Friends, Dr. Hossanna Jaloghor-Williams said "we need a technocrat. He is a large mind when it comes to the business world and development".
As crowds supporters of Deacon Iyovwaye dance through the PDP Secretariat Asaba in jubilation Cleric, Pastor Preye Foh pronounces excitedly: "If Deacon Chris Iyovwaye becomes the governor, there will be rain in this State. There will be spiritual rain, economic rain,financial rain. We are going to work on our delegates."
The Woman leader of Isoko Development Union, IDU, Chief (Mrs.) Felicia Suleiman, says:"Deacon Chris Iyovwaye has shown over the years that he respects women and very passionate about the involvement and inclusion of women in driving the economic gains for them too. So he has our total support. We have seen in him a principal that has qualities that no other aspirant has. He has the fear of God, and he is a technocrat. He will turn DeltaState around. It's like what's happening in Anambra State now. When you see Soludo, you know that there's a change. That's how when Deacon Chris Iyovwaye will emerge, there willbe a Change in Delta State. So, the women are totally in support of him."
Deacon Iyovwaye says he plans on consolidating on the existing foundation of incumbent Governor Okowa's SMART AGENDA PLUS if elected the next Governor at the 2023 general election to make Delta State become an Industrial hub. His other goals is to tackle insecurity, invest more on education, and provide quality health care to Deltans and residents in Delta.
His passion and vision stems from his antecedents as a technocrat and administrator of unequalled efficency to execute audacious complicated projects with outstanding outcomes.