Hon. Ogor Leo Okuweh Left Behind a Big Shoe to Fill – Ukodhiko
Isoko Federal Constituency's newly sworn in House of Representatives Member, Hon. Ukodhiko Jonathan Ajirioghene speaks about his goals and expectations of the Isoko Nation.
---
My name is Pastor Engr. Ukodhiko Jonathan Ajirioghene representing the good people of Isoko North and South Federal Constituency.
As we know, my predecessor, Hon. Ogor Leo Okuweh is one of the most successful lawmakers as far as the country is concerned. So my constituency is expecting a lot from me because I am stepping into a shoe that is so big.
What is expected of me is development and to build a vibrant democracy, in addition to consolidating on what Honourable Ogor Leo Okuweh had done in other for us to better the lives of our people.
First and foremost, I want to give glory to God Almighty because it is only God that made this possible. The election was not easy, but God saw us through, and I also want to thank my Constituency, the good people of Isoko North and South, for giving me the mandate to represent them.
I am very happy and as you can see I am with my wife and today is one of the happiest days. Today is a milestone because before now, we have been in the business world. Today, we are in politics to serve humanity. So it gladens my heart, and I know that God will give me the grace and the courage to do more for humanity.
I am very close to my people, I love visiting home, I am homely, and most of the time I go home to make sure I interface with them, which has led to why I am in Abuja to bring forth my people's issues and challenges and fight for them and to better the lives of every Nigerian.
Nigerians expect a lot from this 10th Assembly and if you watched what happened and looked at the last election, the election was free and fair and the people chose those they trusted and who are able to deliver. I assure every Nigerian that this 10th House of Representative will not let them down.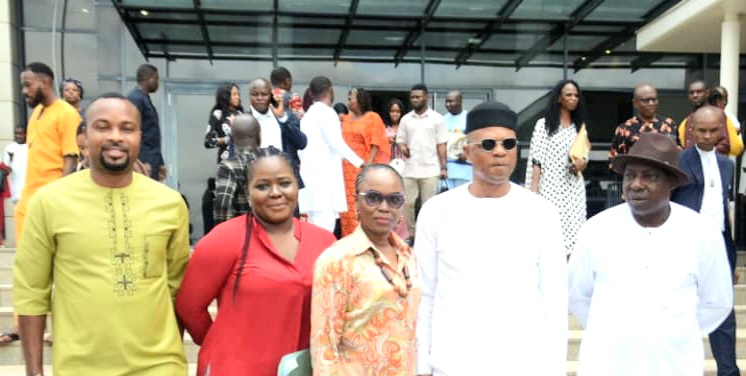 Mrs Ivie Ukodhiko who stood side by side with her husband shared her thoughts with us:
First of all I am very happy that today has finally come, it was a long journey so I am grateful to God Almighty for everything and I have no doubt that he (Ukodhiko) will represent his people very well. I know how successful he was in the business world, and so I know he will bring the same acumen into politics, and by the end, I know he will succeed. He will fit in as his predecessor, Leo Ogor, so that won't be an issue, and I know with his guidance also, he will do more, in fact, even better.