Sickle Cell Warriors – Over 150,000 Babies Born in Nigeria Annually
In ILORIN, KWARA – "Pray hard," the doctors implored Morufat Abimbola Ayodele, whose 12-year-old daughter's health condition had worsened. Young Morufat he suffers from sickle cell disease.
From Delta to Enugu to Taraba States, the number of children to adult ratio who suffer from sickle cell continues to rise. It begs the question: are there enough media and social advocacy campaigns warning Nigerians the life long impact of the disease when couples with "AS-AS genotype" or "AS-SS genotype" chose to have children? That for every 4 in on 1 chance, they will most likely give birth to a child with the sickle sell disease? Is ignorance fueling this rise or are faith miracles at the root of couples defying the odds?
---
By Peace Oladipo
In December 2022, little Faizah was admitted to the University of Ilorin Teaching Hospital in Kwara State for the second time that month. She suffers from sickle cell anaemia, an inherited blood disorder that causes blood cells to stick together, blocking blood flow and oxygen from reaching all body parts.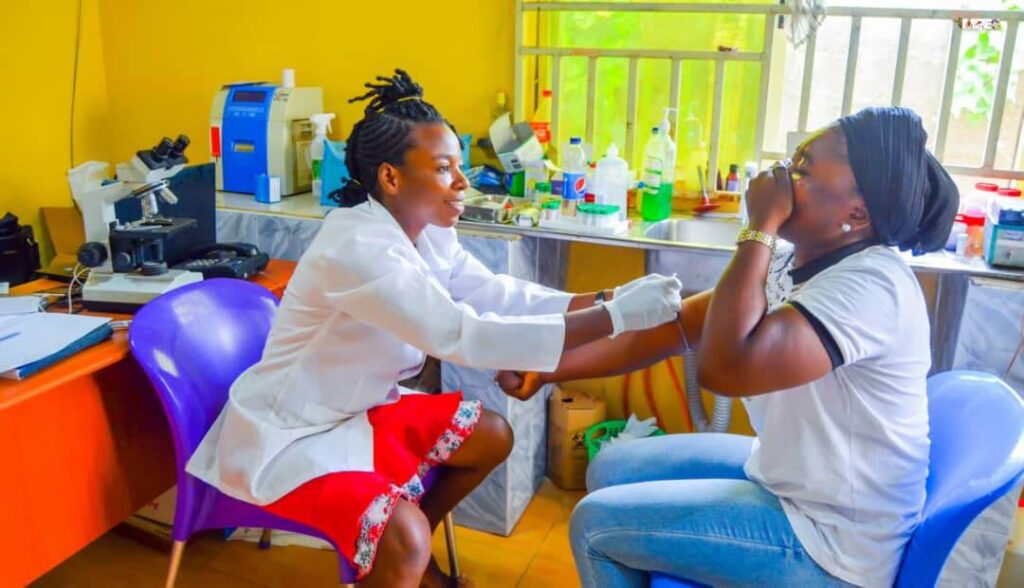 The World Health Organisation says Africa bears the highest burden of sickle cell disease, ranging from 20% to 30% in countries like Cameroon, the Republic of Congo, Gabon, Ghana and Nigeria, with a jump to 45% in Uganda.
Specifically, according to a UNICEF report, 150,000 babies are born with sickle cell disease annually in Nigeria. That means 20 out of every 1000 live births are sickle cell cases, with many dying before they turn five.
People get SCD when they inherit one sickle cell gene from each of their parents. Experts advise that intending couples medically check their genotypes for compatibility.
For example, a woman with an SC genotype should avoid marrying a man with the same genotype since it is possible for their child to inherit the sickle cell gene (S) from each of the parents to end up as an SS genotype carrier (SCD).
"A single sickle cell patient can take the resources of four children. They can die anytime when they are not well taken care of," said Olayemi Olanrewaju, a consultant dermatologist at the University of Osun Teaching Hospital.
People with sickle cell disease or SCD experience swelling and pain in the leg, abdomen, arms, back, and chest due to decreased red blood cells circulating in the body.
A person with anaemia is also prone to infection and other serious health complications like stroke, high blood pressure, blindness, gallstones, depression, anxiety, and delayed growth.
This condition demands diligent monitoring and attentive care from a healthcare provider, which could involve intricate surgical procedures.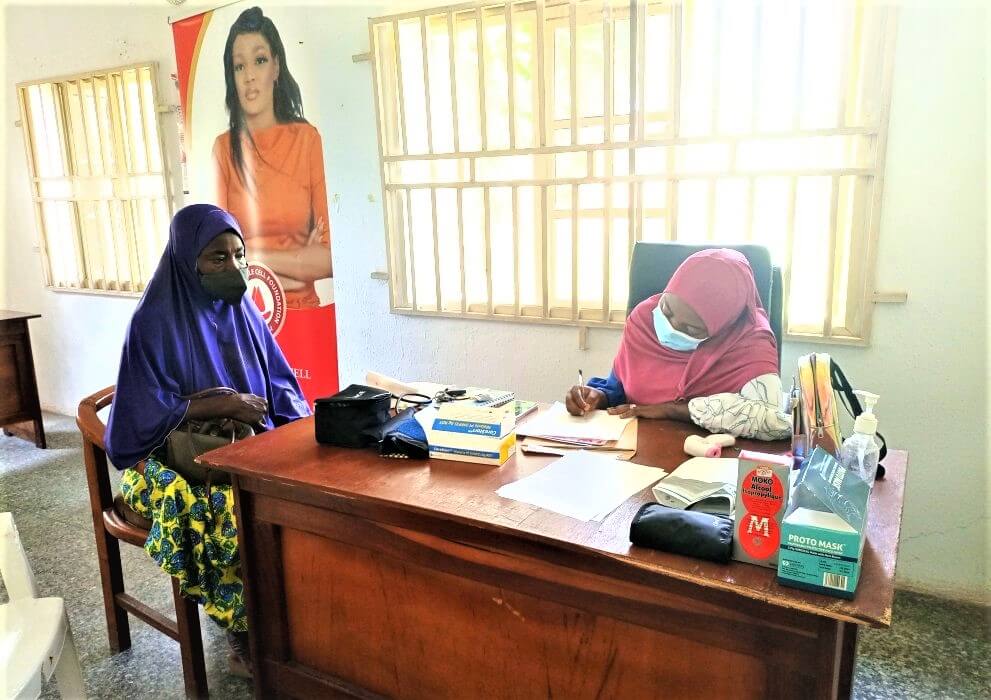 In debt
Faizah and her mother and three older siblings live in Oyun, a suburb of Ilorin. Her health complications have prevented the teenage girl from going to school regularly and stopped her siblings from advancing beyond secondary school because it brings a heavy financial burden on the family.
"We are not from a rich background, and my mother is the only one catering for us. My father is not concerned about us," said Kaothar, Faizah's eldest sister.
Faizah's mother sells grinned maize (called 'pap' here) to offset her daughter's medical bills. And the family sometimes borrows money to meet up.
"I am still paying some debt because of the crisis she had last year," Kaothar told Prime Progress.
Intervention
Zainab Abdulazeez is Faizah's neighbour. One day in November 2022, she stumbled on publicity material of a nonprofit called Damilola Sickle Cell Foundation or DSCF. Knowing she had a neighbour who might need the information, Abdulazeez copied the link to the nonprofit's Whatsapp group for beneficiaries, which she gave Kaothar, who joined the group immediately.
The nonprofit provides emotional and material support to people with SCD. In the group, Kaothar explained her sister's situation to the organization, prompting its team to visit Faizah at the hospital to confirm her critical case. They brought her packs of gifts and gave her first cash support of N50,000.
"With the N50,000, we bought drugs and provisions for Faizah," Kaothar said.
After calling for donations using its social media accounts, DSCF went on to take over Faizah's treatment and checkup costs for an entire month until her crisis subsided.
In severe cases, DSCF reaches out to governmental bodies and private enterprises for support, backing its requests with compelling testimonies and evidence.
Rejection and response
Damilola Ajibade is a person living with SCD. Growing up, she faced exclusion from others, including friends.
"People's reactions when they hear you are a sickle cell patient [is that]… you should not be associated or mingled with. There is a belief that they [SCD warriors] can die at any time," she said.
In 2017, while an accounting undergraduate at Kwara State University, Ajibade launched DSCF to advocate against stigmatization directed at SCD warriors.
"I started this organization because of the stigma I faced from coursemates, friends and colleagues. In terms of employment and opportunities, even when you get employed, there is no guarantee that you will maintain the job for six months," she said.
"Once you start having pains and crises, you will be served a sack letter. So I took it upon myself to preach and let people know how to manage the disease, not concluding it is a death sentence."
Ajibade said DSCF has nearly 200 warriors it checks on and supports with free drugs monthly.
Ajibade appears on local radio and television call-in shows to deliver her messages and encourage people to check their genotypes for compatibility before getting married.
"I met DSCF through a radio program on Radio Kwara four years ago," said 60-year-old Zainab Abdulmajeed, a retired school manager in Lagos. "Since then, her organization has been helping me and other SCD patients I referred. They provide medical checkups, drugs, and foodstuffs that greatly improve our health."
Monthly street walks and community enlightenment programmes are other ways the nonprofit's 250 volunteers create awareness and reach more people.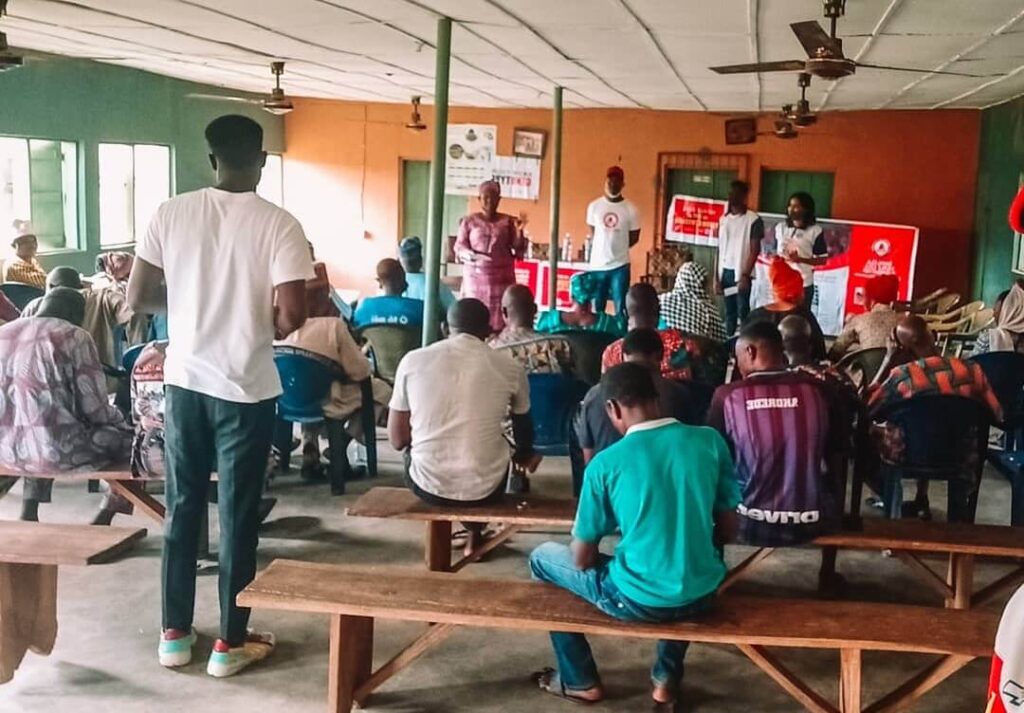 encourage people in Ilorin to know their genotypes, in 2022, DSCF started a laboratory centre now testing potential couples for genotype compatibility and screening sickle cell warriors for blood levels and infections.
Olanrewaju, the consultant dermatologist at the University of Osun Teaching Hospital, told Prime Progress that he had observed that the rate of sickle cell incidents per live birth has reduced over the past five years in Kwara, attributing the progress partly to the efforts of nonprofits like DSCF in educating the public on genotype screening before marriage.
"We don't have data to back it up now. But because of the enlightenment through different foundations and genotype education in religious centres, there is a reduction in the cases of sickle cell patients," he said.
Despite the success, Ajibade said she and her team sometimes feel discouraged because "After making mass awareness about genotype compatibility, we still see couples, not compatible, who go ahead and marry due to their religious beliefs, love and other things."
This story was produced and published with the support of Nigeria Health Watch through the Solutions Journalism Network, a nonprofit organization dedicated to rigorous and compelling reporting about responses to social problems.