Media collaboration creates multi-layer impact and desired outcomes – Ejiro Umukoro
"You do not push a man to the wall and expect that he would not fight back. That is not to say that we should justify the wrong they do. Rather, we adopt better communicative and collaborative strategies that add values to both sides." – Umukoro says why overemphasis on constant adversarial journalism as a strategy can be a loaded gun.
---
By Deborah Omoare
Multi-award-winning broadcaster, investigative journalist, and media trainer, Ejiro Umukoro in a media tour across Nigeria has urged media organisations, content creators, and those within the creative economy to work together to uncover more salient stories for effective outcomes.
She made this call during an interactive session in one of the media tours put together by LightRay Media across broadcast and online media organisations in Delta State.
Umukoro believes that there are high possibilities of producing greater outcomes when different news media rub resources together to report issues around the world.
"If media organisations can collaborate and speak with one voice, we will make an impact and get the results we seek. We saw what happened the first time in Nigeria where the entire media spoke with one voice and took a stand against the former president, Muhammadu Buhari.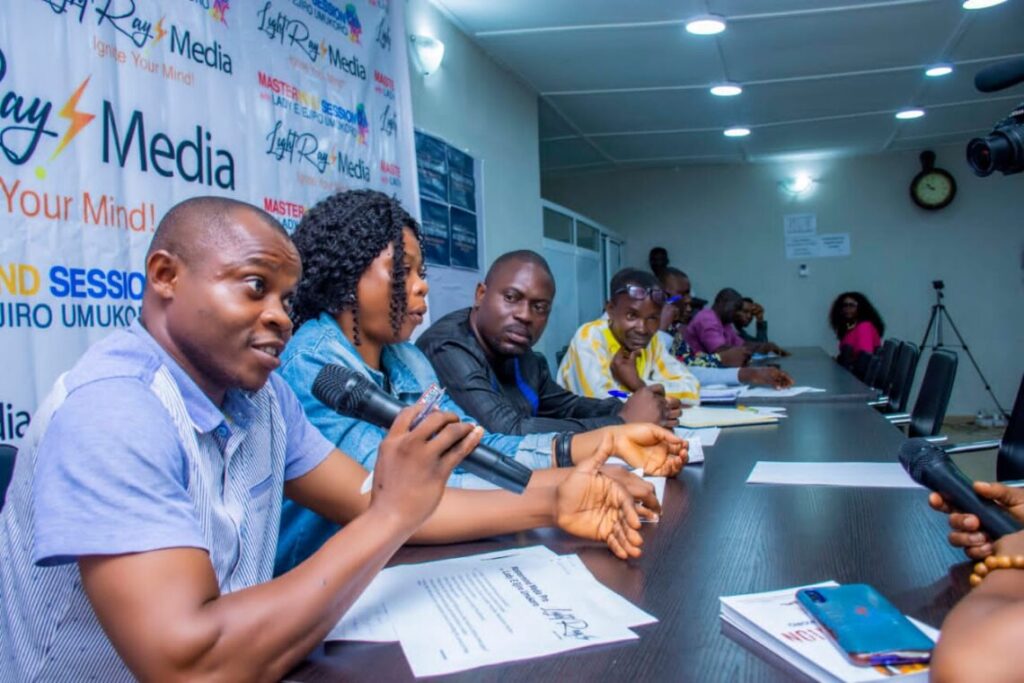 "The media took a stand against his way of leadership and published the same article with the same title and with the same focus. That level of collaboration made the government sit up and redouble its efforts."
Recommending how collaboration can be promoted in the media world, Umukoro stated that beyond being competitors, journalists should see themselves as colleagues for a common goal and even as friends rather than adversaries, emphasising that friendship can only be achieved when there is clarity on interests, editorial policies, and the operating system of the government structures.
"We may be competitors but can also be collaborators, once we have clarity on our interests, editorial policy, and how our government structure works. It can go a long way to demystify some of the hidden negative and buried emotions that drives negative competition that destroys the fabric of the media ecosystem and social cohesion.
"We should learn to speak with one voice for the industry whether we belong to the newspaper organisations, the broadcasting organisations including the various bodies like the Broadcasting Organisation of nigeria, Nigeria Guild of Editors, Nigeria Union of Journalists, the Press Council and so on. We should come to a point where we understand that there should be collective meeting points for all these organisations to come together because what happens often is that we allow the competitiveness to override the outcome that we seek for the collective good of Nigeria."
Umukoro stated that one of the ways the media can collaborate is by amplifying powerful stories to audiences for an effective outcome.
"In Delta state, I did an investigative story of female students who were recruited to cultism. Other media organisations also picked up the story and amplified it because it was so significant. Even though they were not the ones who originated the stories, they were able to see my story and see that it is a powerful story that must be amplified."
Umukoro explained that another way of collaboration is by drawing ideas from similar stories that have been written, which were impactful.
"Solutions Journalism is about looking for stories that are impactful in a specific way. For example, if you want to write a story about sickle cell disease in Nigeria, while the disease is an African problem, you can look within Africa and see which African countries are doing a lot of research in this aspect, which media organisations have covered this in these countries, which professionals are in that space from doctors to researchers are who doing well to interview and amplify the otherwise unknown expertise and solutions they have already discovered or implementing. That is a form of collaboration."

She emphasised that for long-term impact to be made, there is a need for the media to collaborate with government officials for desired outcome that positively affects the lives of citizens and the enabling of good governance and rule of law.
"If we get adversarial with the government, the truth is that they will fight back. You do not push a man to the wall and expect that he would not fight back, that is not to say that we would justify the wrong they do. Rather, we adopt better communicative and collaborative strategies that add values to both sides to give us the outcomes we seek."