Distortion
From century-dead ancestors, a family curse reaches out to haunt Abu, claiming first his mother, and turning his community against…
---
From century-dead ancestors, a family curse reaches out to haunt Abu, claiming first his mother, and turning his community against him. Even his status as a pharmacist in the small town of Umu-Oti does not give him what he craved most: the respect of society and the affection of women. He battles his demons of mental health and sexual addiction, while negotiating hurdles of caste discrimination and ruthless cults, but it is his alliance with the malignant widow, Mama G, that takes him to the precipice, and puts him on the radar of investigative journalist, Akpobrume.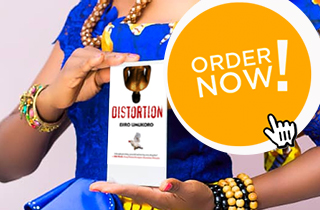 This is a very nasty book! From the concoctions of the drugs, to the story of the girls… this book is graphic! In this frenetic thriller, Abu navigates a morbid criminal underworld set within a social context marred by superstition, drug and human trafficking, as well as fraud. The author skillfully uses simple diction to help the reader visualize the characters, terrain and graphic events.

Ehije Edoro, Policy Analyst
Distortion is an unexpected journey of Abu through a series of very relatable yet wildly unbelievable different scenarios put together in one finely told story. From conversations surrounding money, sex, family, marriage and much more, it's easy to visualize a pattern in how we, as humans, address "different".

This book addresses some of the societal politics we've come to know as normal while dissecting the concept of outcast treatment, a system that applies in small pockets in so many different contexts till date. There's an interesting twist with every other page but a satisfying finish.

A thought provoking, powerful and moving story altogether!

Kiki Mordi, Emmy Nominee, Investigative journalist, documentary filmmaker with and Founder of #DocumentWomen
Distortion is a masterly told fictional story that mirrors a typical life situation in a rural community in Nigeria. It's story telling at its best with graphic description of people, places and events written about and analogies that grabs a reader line to line and page to page about how people try to overcome their personal challenges by taking advantage of others.

Ejiro, award-winning journalist and broadcaster deploys her engaging writing prowess to weave together a must-read story of a village Chemist, society woman, Prophet, journalist and others whose lives are distorted in one way or the other.

Lekan Otufodunrin, Executive Director, Media Career Development Network
Watching his mother resign herself to death, Abu the Chemist seeks to understand his life despite the brazenly cold hands of culture working hard to snuff it out. His people hated him as much as they praised him!

He seeks understanding in the religion his mother had clung to, only to find a brick wall. Could science be his respite?

His meeting with the revered Mama G was his turning as well as convergence point. It all finally made sense. His sexuality, his science and his religion all explained in this sizzling, exciting encounter with an irresistible woman.

He embraces the darkness that had sought to overwhelm him. He loved the darkness that covered his shame. From there, it all gets distorted. How far in would he go?

Wemimo Adewunmi, Broadcast Journalist and Anchor, Nigeria Info
Distortion is a treatise on the Nigerian question wherein prejudice gains traction over evidence. Distortion further highlights the unspeakable debauchery meted out on the hapless by minds inebriated with compromised moral sense of humanity. Distortion is a mirror of the lack of purpose of the Nigerian state in terms of its inabilities to see through one of its fundamental responsibilities, to wit, security of lives of its citizen, especially vulnerable persons. Ejiro Umukoro through Distortion, has a bird view of the fulcrum of untoward activities of the perverse, jaded and amoral denizens of Umu-Oti which ultimately reflects the Nigerian state.

Smart Edoge, Chairman, Uniben Alumni Association Asaba and Fellow IVLP, Washington DC, United States
Great descriptive ability. 'Distortion',a book that encapsulates many of the vices in Nigeria, is well interwoven and articulated with Nigerian descriptive parlance. I held on to the novel and was like what next, what is next, till l finished reading. This is a novel that picked on cultural issues, societal gaps, la laicakadeisical government attitudes as well as decading moral values. Though the setting is that of Eastern Nigeria, every character here represented were scripted to speak the language that delivers their role beyond Igbo land. 'Distortion' is a novel recommended to understand how life is for a typical Nigerian: The Abus, the Mama G's, the Akpos and more. This is such a great read for relaxation too!

Funke Fayemi, Broadcaster, Voice of Nigeria
This is beautiful writing. The novel, Distortion aptly captures some intricacies and unfortunate realities of the Nigerian society using today's language. When you read a novel which keeps you nodding and leaves smiles of knowing on your face yet you cannot predict how it would end then you know you are reading a good novel, Distortion certainly falls into this category. The brilliance in weaving the stories of Abu, Mama G and Akpobrume which initially seems unconnected is certainly applauded. Lessons abound challenging Nigerians to fight for the Nigeria they want. Well done Lady Ejiro.

Ini Victoria John-Mekwa, Channels TV Producer and Journalist.
Distortion is the story of Abu, a man whose forebears were alleged to be mentally-challenged. It is also the story of Mama G, the queen of the underworld. Abu fights to be accepted by his mother's people but he is rejected. Finding companion becomes Herculean and he maneuvers his sexual urges in ways that question his mental health. With a varnished, hypnotic and easy-to-follow prose, Ejiro Umukoro has written a book small in size but with a gargantuan relevance. If you are not ready to read this book, avoid copy-tasting because you are likely to get soaked in trying to find out how a lady's corpse gets washed ashore. With themes such as baby factory, BDSM, child labour, rejection, human trafficking, prostitution and so on, this book will get you thinking and make you wonderif there is any difference between man and the devil he is quick to blame for his evil ways.

Olukorede S. Yishau, author of Vaults of Secrets and In The Name of Our Father
Distortion offers you a slice of Lady Ejiro's creative prowess. It makes an interesting read, capturing in a lucid manner some of the complexities of life and human character.

Enato Isukul, Award winning Journalist and Film director and Fellow Wole Soyinka Center for Investigative Journalism.
From family notoriety to personal demons, a series of questionable choices sends Abu's life on a downward spiral. Can there be redemption for him?

Ejiro weaves a story with engaging prose, her words painting vivid pictures and scenarios. The characters in this book will elicit a dozen emotions, good and bad. You will question their sanity and wonder at the depths they will sink to reach their goals. Above all, you will thirst for justice to be served.

Hannah Onoguwe, Author of Wine and Water
Distortion is an amazing read from the talented Ejiro Umukoro.

It depicts how society plays a huge role in influencing who we become and how even as professionals we can get it wrong.

It touches many sensitive subjects that are deeply rooted in our society.

Distortion shows that every person has potential to do evil, especially if not getting needed support.

It gets worse if life continues to deal them a bad card, eventually, they would resign to fate and surrender to life.

Another lesson to note is no matter how successful we've become, things could take a bad turn with one little mistake. Abu is the perfect example how society f**ks us up.

But what matters is getting up after a fall and moving forward with renewed vigour.

The beauty is, the next shot we get could be bigger than previous ones. So we should never give up.

Finally, Distortion simply explores the need for us to do better as humans. We need to care more, maybe we would be able to turn the tide and truly make the world a better place.Well done Ejiro. Nice work.

Distortion is an interesting read.

Azeezat Olaoluwa, Women's Affairs Journalist, BBC News, West Africa
Ejiro has written a book that captures your interest from the beginning. Delving into superstition and cultural beliefs, she gives you a background of where those beliefs come from. But beyond that, she weaves these superstitions and beliefs into a storyline that pulls you in and has you "asking how this play out will?" There are twists and turns that the reader isn't anticipating and that keeps you turning the pages. She gives the characters life, explaining their motivation and allows them to breathe. A well-written, fast paced read that has you wanting more.

Tolulope Adeleru-Balogun, Journalist and Media Consultant
Excellent piece of work. The plot and characterizations were well thought out. Religion, health, culture, and tradition, as well as Journalism, neatly woven to portray how much impact these social elements have had on the fabric of our society…

Veronica Dan-Ikpoyi Multimedia Journalist
One man's desire for love and acceptance in a discriminatory society leads him into the evil world of sexual perversion, sexual abuse and child trafficking.Within 80 pages, Abu went from an angel readers would love to a demon they wouldn't.

In this first book, author, Ejiro nicely let us into the realities of life for vulnerable young girls and persons who suffer discrimination. From jungle justice to drug abuse, she delves into hidden vices that ride in the society while highlighting the role of journalists like Akpos, who passionately pursue investigative stories that would hopefully make the world better for all.

Ugochi Anyaka-Oluigbo, International Journalist, Green Media Strategist – ENDN Environmental Film Maker Creator, Green Angle TV
It's amazing how the author unpack so many issues in a short book. She humanize quite beautifully.

"Abu could have been perfect but he simply wanted to live. A chance to be seen and regarded, not as the chemist but as a human – a man…

This book is an intricately woven piece of literature that unpacks a lot of knotty cultural and societal issues ranging from; the mislabeling of mental illness, rape, the caste system, dehumanising widowhood practices, human and drug trafficking, and the suspension of common sense in favour of religious exuberance.

The author's vast journalism experience is made bare in this robust and compelling piece of work. It's a good and bad ending with lessons for all of us.

Lolade Nwanze, Journalist and Public Affairs consultant
A very emotional and intriguing story; I found myself teary eyed many times while I read Abu's story. I could feel the rejection of society and his aloneness as he faced all the challenges presented to him. I like the way Abu was made into a regular man with his imperfections and the constant struggle to livelife or at best, get through one day at a time in between the 2 wolves of good and evil. My heart was brokenthough when he fed the evil wolf.

Lady E wrote with vivid description of the environment, of the characters and their state of mind. My mind was totally engaged and I must say, I enjoyed reading DISTORTION. It was the sum total of life in 102 pages. Indeed, "When good people refuse to keep silent, then evil will never survive."

Yecenu Sasetu, Health Journalist
A compelling read! Distortion aptly captures the chaotic life of those in our societies, whose appetite for gain is fueled by immorality, their unfortunate victims, and their heroic antagonists. –

Michael Nelson, Founder and CEO, The CoBuilders
If you ever needed a confirmation of that saying "Life is indeed stranger than fiction", then this confirms it. Though all characters are fictitious, the story is loosely based on a series of real events.

Distortion tells a tale of a stranger in his own land, the constant battles that go on within him,the numerous colourful characters that he encounters daily and eventually his resolve.

The hand Abu was dealt by Umu Oti,truly is one of alienation and coldness. He was needed but not wanted and they were quick to remind him of his place.I was taken back to the slow days of sending notes to plan rendezvous,that not too distant past that we all look back on with nostalgic feelings.

Ejiro Umukoro is a human embodiment of tenacity, energy, focus, dedication, her sense of agency is admirable. I am so eager for readers to escape into her writing. She writes with the mastery of a journalist and the ease of a griot.

Nana Lyamgohn, Civil Servant
It was an exciting book to read. The plot was riveting. I like how characters seemed to surface out of nowhere and then juice up the thrille.g Mena, Akpos, Chuks boy and Kojo .As I read through after taking in the prologue, I kept trying to decipher how it tied into the running story and I reached that A-HA moment when Abu put his car in neutral and rolled it out of the compound with the naked body of Nneka wrapped in a sheet in the booth of his car heading towards the bridge. Akpos is another character that his emergence appealed to me. I could feel the discomfort of his accommodation in the village, a far cry from what he was accustomed to in the big city. I could feel the heat on my skin when he stepped out of his room into the street. I felt his unease trying to enjoy the music with his earphones yet drowned by the noise of talking civil servants and others in Madam Waist buka. The book has got comedy, action, horror, sex and suspense and comedy. Mama G's line ' as God is my witness ' always cracked me up.

Will I pay money for more copies of this book? YES. I'll also set some aside for the purchase of the sequel.

Yes, the sequel because I'm yet to see the DISTORTION, yet to understand the 'blue moon' and see how justice caught up with Abu for his ill deeds.

Kingsley Ohi Ohioma Dental Surgeon
Ejiro Umukoro's Distortion is a somber tale of harrowing proportions.It begins with a fisherman stumbling upon a decaying body in a riverine community just before daybreak. What unfold afterwards in the south-eastern town of Umu-Oti — where the story is set — are a chilling drama of hatred, greed, rape and envy and a people who entrench it, albeit unintentionally.The author lets us in on the pitiful ordeal of a struggling but driven young pharmacist who has settled into life as a community Chemist, selling medicines to the sick and treating the wounded, all the time dreaming of running his own pharmaceutical company someday. But Abu is a marked man, carrying a cross placed on him by an accident of birth, by a society blinded by its own belief system: the people who praise him for being the go-to healer insult him for being from a cursed lineage. The girls keep him at arm's length, but want his money; the older women, openly and discretely taunt him; and the church which should embrace him offers no respite. So what's a young man to do when he is rejected by the things that matter to him? Reading Distortion feels like peeping through a pigeonhole and catching a glimpse of a society about to self-destruct.

PELU AWOFESO, Writer and Author, White Lagos
"Distortions is a brilliant, intricate weave of perennial issues of national importance in Nigeria into one pulsating story. It's a dark yet vivid commentary on religion, fake drugs, street trading, interwoven with issues of mental health and the cultural myths and taboos surrounding marriage in Eastern Nigeria. The characters are alive and relatable, it brims with action and suspense. This is an authentic Nigerian story, well told"

Anike-ade Funke Treasure, Broadcast Journalist & Speech Coach.
Distortion is an example of the perfect drama with suspense, love and mystery.

The story did not miss its relevance at any point, each chapter had an intense message about the characters and events sequence.

The use of real-life issues – initiation into cultism, stigmatisation of the outcast and free-born, women who had miscarriage/stillbirth, religion and tradition, office politics, incompetent medical personnel, bribery and corruption in the school system, uncultured sexual relationship( Abu and Mama G), fake drugs and the fight against it, child labour, rape, child trafficking, fake orphanages/ churches, human ritual and great journalistic work.

Stephanie Sora Adams, Journalists, Development Professional and Gender Inclusion Advocate.